When reading this, bear in mind that I am not in the first flush of youth which may account for my confusion.
My Grandma and my Mum crocheted doilies for all sorts of reasons but I remember them under plates holding lovely homemade cakes and scones. As I look around the internet I notice the trend is to crochet mandalas - my question what is the difference?
Look at the next 7 pictures which are mandalas and which are doilies?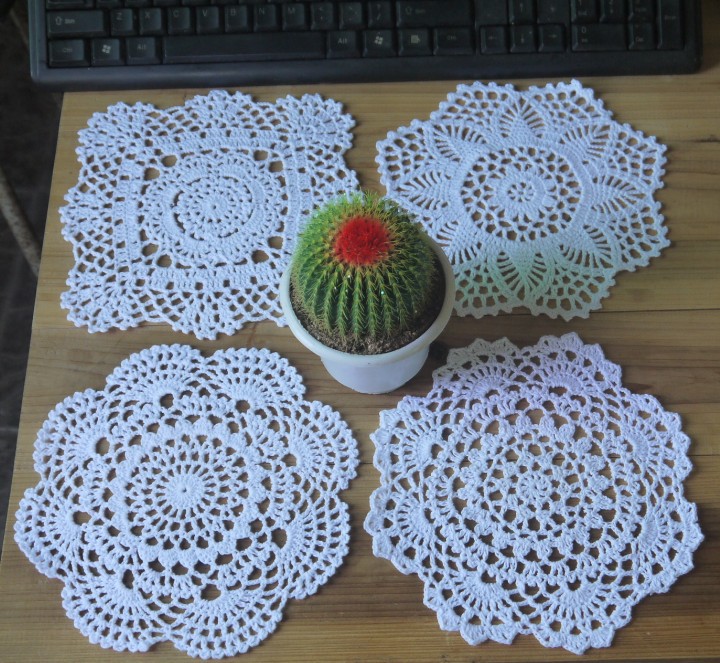 Seems easy but look
http://crochetartblog.blogspot.co.uk/2013/06/crochet-doily-free-pattern-pineapple.html
this is a lovely free pattern for a doily. I remember my mum making pineapple type doilies but
look at it
here
where there are more free doily patterns. The colour change makes all the difference. has it become a mandala?
If you want to make your own mandala
Helen is publishing a CAL
that you can join in. This is done in weekly parts and I can't wait to join in.There is also an interesting explanation of what a mandala is.
Having tried the Dandelion I was inspired to branch out on my own.
So I think doilies are nearly always white, mandalas are any colour you like.
Doilies are often lacy, mandalas are usually solid.
Doilies are used horizontally to support dainty edibles, mandalas are used vertically to decorate walls.
Doilies are domestic decorations that have been made throughout history, mandalas have a cosmic link but they have been made from very ancient times too.
I think doilies are always crochet or paper but mandalas have been made from lots of different materials including stone, enamel, glass and paint.
No these are rugs.
Lynn and Victoria.